New Camerata Opera. The Count of Luxembourg and Other Tales
New Camerata Opera was founded by a collaborative company of 8 operatic singers. The artistic directorship is held by a committee, and decisions are made democratically. The three main initiatives of NCO are: full-length operas, children's operas, and short operas, specifically commissioned to be filmed, and broadcast on YouTube. The company launched in 2016 with an enormously successful Opera Gala, at The National Opera Center, and a comprehensive crowdfunding campaign. October 2016 brings a run of a new adaptation of operetta-farce: The Count of Luxembourg and Other Tales, a Viennese Pastiche. The premier children's opera of the company Peter Rabbit, based on the music of Gaetano Donizetti, and adapted by Stan Lacy, will receive its first public performance in November 2016. In March 2017, the company will release their first YouTube commission, a new opera composed by Peter Engelbert, with a libretto by dramatist Adam Laten Willson.
The appeal of New Camerata Opera is a sense of fresh and lively collaboration. Like some of the greatest dance companies, or theatre troupes, NCO is a true ensemble. The intimate performance venues joined with innovative staging concepts and healthy, young voices make for a refreshing evening of theatre. New Camerata Opera has incredibly ambitious goals for its first season, and for those that will follow, but the strong cohesion of this unit of artists lends the company a great drive in this endeavor.
New Camerata Opera
Shetler Studios, Penthouse 1
244 West 54th Street New York, NY 10019
www.newcamerataopera.org
Presenting New Camerata Opera:
Upcoming production: The Count of Luxembourg and Other Tales
A VIENNESE PASTICHE
In October of 2016 the curtain will rise on the first mainstage production of New Camerata Opera, The Count of Luxembourg and Other Tales, a Viennese pastiche, conceived and directed by Alexandra Lang. Take a trip to Paris at the height of the Belle Époque. Whether you are parading your haute couture while sipping champagne at Maxim's, taking in a cabaret at the Folies Bergère, or indulging in absinthe in Montmartre, Europe is exploding with culture, and Paris is the center of it all. The Count of Luxembourg and Other Tales captures the vibrant spirit of this era while exploring a light-hearted critique of the societal upper crust, and where life can lead when it catches you off-guard. With its lush melodies, irresistible waltzes and deliciously wicked wit, 'Luxembourg' will sweep you off your feet, all while delivering the intimacy of an evening at the salon.
Thursday, October 20th at 8:00 PM
Saturday, October 22nd at 8:00 PM
Thursday, October 27th at 8:00 PM
Saturday, October 29th at 8:00 PM
The cast for all four performances of The Count of Luxembourg and Other Tales, a Viennese Pastiche is:
Angèle Didier, a famous singer: Alexandra Lang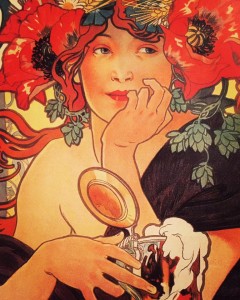 Count René, of Luxembourg, a penniless aristocrat: Stan Lacy
Prince Basil Basilowitsch, in love with Angèle: Scott Lindroth
Armand Brissard, a bohemian painter: Erik Bagger
Juliette Vermont, a dancer, engaged to Brissard: Barbara Porto
Prince Orlofsky, a fun-loving royal: Julia Tang Pélégrin, a scheming registrar: Victor Khodadad
Countess Stasa Kokozow, of Galicia: Eva Parr
Production adapted and directed by: Alexandra Lang
Arranged and conducted by: Michael C. Haigler
Music by: Franz Lehár and Joseph Strauss
New Camerata Opera
Shetler Studios, Penthouse 1
244 West 54th Street New York, NY 10019
www.newcamerataopera.org
New Camerata Opera: Children's opera production of Peter Rabbit: