By Charles Coleman  May 26, 2016
Giuseppe Verdi's Rigoletto was something of a maverick opera when it was premiered in 1851, both for its departure from the Bel Canto traditions at the time, as well as its presenting people of royalty in a risqué light, albeit greatly toned down from the original play of Victor Hugo's "Le roi s'amuse" (which lasted only one performance). Nonetheless, Verdi's masterpiece, which tells the story of a tortured court jester in his private life, was a great success at its premiere and still flourishes throughout the opera world today.
Although New York's Amore Opera presented Rigoletto in a generally traditional vain, director Nathan Hull was very attentive to the subliminal aspects of Verdi's score with crucial lighting changes and reactions of the dedicated singers on stage, all well-synched with the changing character of the music as it evolved.
The beautiful and rich sounding color of baritone Robert Garner in the title role showed an appropriate sympathy and vulnerability which is vital to Rigoletto's mindset, especially during his aria "Cortigiani vil razza" when Rigoletto angrily scoffs at the Duke's henchmen for abducting his daughter Gilda, but then breaks down and begs the men to bring her back to him. Garner's moving performance made it the highlight of the whole evening.
Soprano Katrin Bulke may have been a little out of her comfort zone in playing the jester's love-struck daughter Gilda, given that her lovely crystalline voice is more compatible with the lighter repertoire of Franz Lehar and Johann Strauss. And although many Verdi purists could take exception to some of Bulke's Bel Canto'esque ornamentations (As they did with Joan Sutherland in this role), one could not help but be touched by her innocence and subsequent wisdom which was at it's best in the duet "V'ho ingannato", as Bulke performed a heart melting farewell to her father as she dies in his arms.
The part of the Duke of Mantua is not the heaviest tenor role of Verdi's oeuvre, but it still has its challenges and unforgiving passages in the high passaggio of the voice, made to great effect by tenor Kevin Courtemanche who glided through the role with apparent ease. In the opera's hit tune "La Donna é Mobile", Courtemanche gracefully demonstrated this ease, amidst a few mistakes in the orchestra, ending on a perfectly sung high B natural, as if it were nothing.
Other performances included bass Joshua South as the gruff hitman Sparafucile, mezzo-soprano Benedetta Orsi as the loving yet flirty sister Maddalena and the sonorous bass Kofi Hayford as the Count Monterone who's deafening curse on Rigoletto effects the tragic outcome. Conductor Douglas Martin made a serious attempt to push his modest sounding orchestra to the limit, not always successfully, but Maestro Martin had a clear beat and technique that the singers grasped very quickly.
All in all, an enjoyable night for this Verdi classic.
About the Author;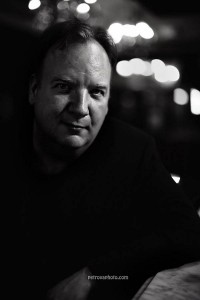 Composer and Vocalist Charles Coleman has written and arranged for many orchestras and ensembles, including the Cincinnati Symphony, New Jersey Symphony and MDR Symphony Orchestra of Leipzig. He is a regular vocalist and conductor with Composers Concordance, Golden Fleece Ltd. and various other ensembles in the NYC area.