The Richard Tucker Music Foundation
Non-profit cultural organization founded in 1975,honoring the artistic legacy of the great American tenor through support of young talented American opera singers and by bringing opera into the community.
The Foundation  offers free performances in New York Metropolitan area and by supporting music education enrichment programs to heighten appreciation for opera.
Richard Tucker Foundation Awards Program offers grants for study, provides performance opportunities and professional development for singers.
SUPPORT THE RICHARD TUCKER FOUNDATION:  www.richardtucker.org/support/
2016 Richard Tucker Music Foundation's Gala – October 30th. Lincoln Center. New York City.
Since 1975, The Foundation has given critical financial assistance to more than a thousand young American singers throughout the United States. This is the proud legacy of Richard Tucker, America's greatest tenor, and we hope you will help to continue this legacy by becoming a supporter of the Foundation.
The Sara Tucker Study Grant provides grants to singers, selected through a vocal competition, who are recently out of the university or conservatory and considered to be at the beginning of promising careers.
2016 Sara Tucker Study Grants: Michael Brandenburg, tenor, 29; Nicholas Brownlee, bass-baritone, 26; Samantha Hankey, mezzo-soprano, 24; Megan Mikailovna Samarin, mezzo-soprano, 23; Laura Wilde, soprano, 29.
The Richard Tucker Award is conferred annually upon a single artist who has reached a high level of artistic accomplishment and who, in the opinion of a conferral panel, is on the threshold of a major international career.            2016 Award Winner is Tamara Wilson.
Programs of The Foundation, include concerts in a different community settings,radio broadcast,master classes. In the past three decades, the winners and grantees of The Foundation sing all over the world, programs finance the growth of young artists and the creation of new music, and expanding educational programs bring help and hope to another generation through the gift of the highest form of art – Opera.
CONTACT THE RICHARD TUCKER MUSIC FOUNDATION:
1790 Broadway, Suite 715
New York, NY 10019
Phone: 212-757-2218
Fax: 212-757-2347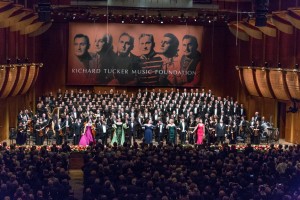 CONTACT THE RICHARD TUCKER MUSIC FOUNDATION
1790 Broadway, Suite 715
New York, NY 10019
Phone: 212-757-2218
Fax: 212-757-2347
Live From Lincoln Center: From Bocelli to Barton:  Opera Gala
The Foundation's Gala—a perennial highlight of the opera season—features performances from Angela Meade, Ildar Abdrazakov, this year's Richard Tucker Award winner Michael Fabiano, and more:
The Foundation Gala 2001 – Pape-Hong-Giordani-Voigt-Graves-Esperian-Licitra-Price-Putilin:
The Foundation Gala 2012 Ailyn Pérez, Stephen Costello – Mascagni – L'amico Fritz – 'Suzel, buon di' ('Cherry Duet') – 2012
Richard Tucker Vesti la giubba Pagliacci: