RATMANSKY FESTIVAL. AMERICAN BALLET THEATRE.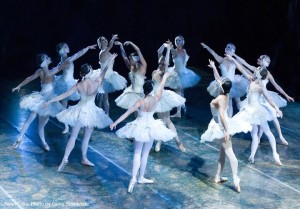 ABT's 2016 Spring Season at the Metropolitan Opera House, featuring an Alexei Ratmansky Festival honoring the Artist in Residence that includes a World Premiere ballet, the American Premiere of "The Golden Cockerel," the full-evening "Shostakovich Trilogy" and the return of the acclaimed "The Sleeping Beauty," plus classics like "La Fille mal gardée, "Sylvia," "Swan Lake" and more!
Since 1940, American Ballet Theatre has performed in the greatest theatres around the world, creating a tradition of passion, innovation, and athleticism that transcends cultural boundaries and touches the soul of ballet lovers old and new.Special events, including ABT Kids and Pre-Performance Workshops, programs designed especially for children. ABT Kids ignites a passion for live performance by introducing them to some of the most captivating and exciting ballets-from the classic story ballet's to contemporary repertory.
Artistic Director Kevin McKenzie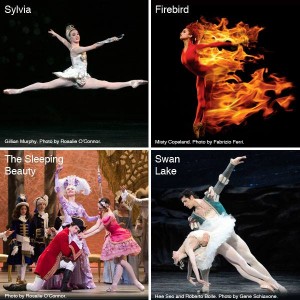 2016 Spring Season
Metropolitan Opera House
May 9 – July 2, 2016.
Box Office Now Open:
Call 212.362.6000 or click here to order online
Buy Tickets: http://www.abt.org/calendar.aspx
Following a triumphant 75th anniversary season last year, American Ballet Theatre is energized and renewed as we look forward to the next chapter of our illustrious history. Secure your seats today for breathtaking artistry and gravity-defying athleticism from our remarkable roster of world-class dancers who continue to bring fresh and spellbinding performances to these great classics during ABT's 2016 Spring Season at the Metropolitan Opera House.
RATMANSKY FESTIVAL
ABT honors our visionary Artist in Residence Alexei Ratmansky with a Festival of his adventurous and thought-provoking work:
Ratmansky Triple Bill

Artist in Residence Alexei Ratmansky choreographs a World Premiere set to Leonard Bernstein's Serenade after Plato's Symposium. This triple bill includes his delicate Seven Sonatas with music by Domenico Scarlatti and the enchanting Firebird, performed to Stravinsky's famous score.
Shostakovich Trilogy
In a highly-anticipated return engagement, Ratmansky's acclaimed full-evening program, performed to Dmitri Shostakovich's orchestral works, features Symphony #9, Chamber Symphony and Piano Concerto #1.
The Golden Cockerel American Premiere
American audiences will get the first chance to feast their eyes and ears on this exotic ballet, when ABT offers the premiere performances this Spring. With his inimitable style and sensitivity, Ratmansky creates rich characters for the seductive Queen, a marvelously gullible Tsar and the darkly magical cockerel – all set against a kaleidoscope of vibrant color that the entire family will enjoy!
The Sleeping Beauty
The beloved story of the beautiful Princess Aurora, the evil sorceress Carabosse, and the awakening kiss of a handsome prince is certain to cast a spell on your heart and imagination in Alexei Ratmansky's production, inspired by Léon Bakst's historic designs for Diaghilev's Ballets Russes.
BELOVED CLASSICS
La Fille mal gardée Major Revival
Making a welcome return to ABT's repertoire after more than a decade-long absence, Ashton's final full-length ballet features beautifully detailed characters and poetic lyricism perfectly suited to its story of young love. In this pastoral comedy, a farmer's widow is determined to marry her daughter off to a wealthy man's son rather than to the poor farmer with whom she is head-over-heels smitten. The picture-book countryside setting of maypoles, dancing hens and a miniature pony adds to the bucolic backdrop of this sunny addition to the season.
Swan Lake
Considered the world's quintessential ballet, this fable of ill-fated romance, dreamlike transformation and selfless compassion is performed to Tchaikovsky's famed score.
Sylvia – See Microsite Here
A ravishing fantasy set amid verdant forests and majestic temples, Ashton's mythological love story unites the huntress Sylvia and a lovelorn shepherd with the divine intervention of the deity Eros. At its heart, Sylvia boasts an incomparable role for its heroine showcasing her dramatic range and astonishing technique, performed against a lushly romantic, rococo setting to a splendid score by Léo Delibes.
Le Corsaire
Discover a treasure trove of virtuoso dancing in this swashbuckling comedy! This exotic fable of a dashing pirate's love for a beautiful harem girl journeys through a tapestry of captive maidens, rich sultans, suspenseful abductions and dramatic rescues – culminating in a shipwreck that's one of ballet's most breathtaking spectacles. Boasting over 120 performers, Le Corsaire perfectly showcases explosive bravura dancing from ABT's star-studded roster of dancers.
Romeo and Juliet
Kenneth MacMillan's masterful interpretation of Shakespeare's enduring romantic tragedy has become one of ABT's signature productions. Against a sumptuous setting in Renaissance Italy, MacMillan weaves a dance tapestry rich in character nuance and sensuality, and Sergei Prokofiev's instantly recognizable music underscores the lyric beauty and passion of this beloved ballet's star-crossed lovers.
Box Office Now Open!
Call 212.362.6000 or click here to order online
Buy Tickets: http://www.abt.org/calendar.aspx
American Ballet Theatre
890 Broadway, 3rd Floor
New York, NY 10003
Ph: 212-477-3030
Fax: 212-254-5938
Posted by Nadia Kovarskaya