Philanthropy: Help Jeff Bezos spend $80.000,000,000 Twitter: @jeffbezos

Request for Ideas for Philanthropy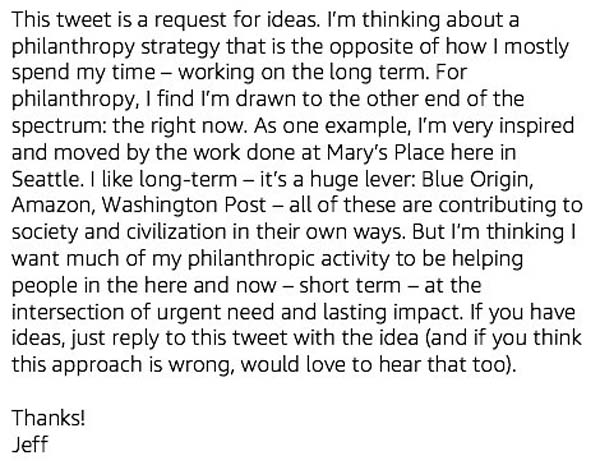 https://www.nytimes.com/2017/06/15/business/media/jeff-bezos-amazon-rich-charity.html
Jeff Bezos, the founder and chief executive of Amazon,
Philanthropy: Help Jeff Bezos spend $80.000,000,000
is well on his way to becoming the richest person in the world, with a net worth of more than $80 billion. What's less certain is what he plans to do with his fortune, and how he could reinvent philanthropy.
On Thursday, after questions from The New York Times about the level of his giving, Mr. Bezos posted on Twitter a "request for ideas" for philanthropy. "I'm thinking about a philanthropy strategy that is the opposite of how I mostly spend my time — working on the long term," he wrote. "For philanthropy, I find I'm drawn to the other end of the spectrum: the right now."
Citing a homeless program in Seattle, Amazon's hometown, that the company is working with, he said he was seeking to help people "at the intersection of urgent need and lasting impact," adding, "If you have any ideas, just reply to this tweet…"
The message was classic Bezos
— challenging conventional wisdom, seeking the wisdom of the market and highlighting his various businesses. Yet it failed to answer a question that is likely to follow him more often if and when he becomes the richest man: What are his plans to give away some or all of his wealth?
Philanthropy: Help Jeff Bezos spend $80.000,000,000
Jeffrey Preston Bezos (/ˈbeɪzoʊs/;[a] né Jorgensen; January 12, 1964) is an American technology entrepreneur, investor, andphilanthropist. He is best known as the founder, chairman, andCEO of Amazon.
Bezos was born in Albuquerque, New Mexico and raised inHouston, Texas. He graduated from Princeton University in 1986 with degrees in electrical engineering and computer science. He worked on Wall Street in a variety of related fields from 1986 to early 1994. He founded Amazon in late 1994 on a cross-country road trip from New York City to Seattle. The company began as an online bookstore and has expanded to a variety of products and services, including video and audio streaming. It is currently the world's largest online sales company, as well as the world's largest provider of cloud infrastructure services via its Amazon Web Services arm.
Bezos added to his business interests when he foundedaerospace company Blue Origin in 2000. A Blue Origin test flight successfully first reached space in 2015 and Blue has plans to begin commercial suborbital human spaceflight as early as late 2018. He purchased The Washington Post in 2013 forUS$250 million in cash. Bezos manages other business investments through his venture capital fund, Bezos Expeditions.
On July 27, 2017, he became the world's wealthiest person when his estimated net worth increased to just over $90 billion. His wealth surpassed $100 billion for the first time on November 24, he was formally designated the wealthiest person in the world byForbes on March 6, 2018 with a net worth of $112 billion. The firstcenti-billionaire on the Forbes wealth index, he was designated the "wealthiest person in modern history" after his net worth increased to $150 billion in July 2018.
Published by Nadia Kovarskaya
CONTACT US FOR ADVERTISING AND SPONSORSHIP: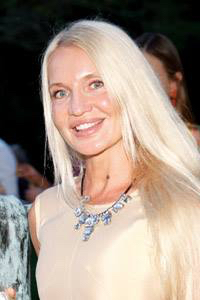 CONTACT US FOR ADVERTISING AND SPONSORSHIP:
email 
Nadia Kovarskaya
Founder
https://meetmeattheopera.com/
About Nadia Kovarskaya,Founder
Nadia Kovarskaya
Is in Top 100 globally as authority/influencer in Performing Arts and philanthropy:
Philanthropy: Help Jeff Bezos spend $80.000,000,000 Philanthropy: Help Jeff Bezos spend $80.000,000,000 Philanthropy: Help Jeff Bezos spend $80.000,000,000 Philanthropy: Help Jeff Bezos spend $80.000,000,000 Philanthropy: Help Jeff Bezos spend $80.000,000,000 Philanthropy: Help Jeff Bezos spend $80.000,000,000 Philanthropy: Help Jeff Bezos spend $80.000,000,000