25dec(dec 25)1:00 am17jun(jun 17)1:00 amFREE Stream La Traviata Opera | Grand Opera | Teatro Real, Madrid
Event Details
Free Stream La Traviata Opera | Grand Opera | Teatro Real, Madrid
Composer: Giuseppe Verdi Opera: La Traviata
Performers: Violetta Valéry – Ermonela Yaho,
Giorgio Germont – Juan Jesús Rodríguez,
Alfred Germont-Francesco Demura,
Flora Belloy-Marife Nogales,
Annina-Martha Was Killed,
Gaston-Albert Casals,
Dr. Grenville-RADO Rado,
Giuseppe – Alejandro Gonzalez,
Marquis d'aubigny-Damian del Castillo,
Baron Dufol-Cesar San Martin.
Conductor: Renato Palumbo
Orchestra and chorus of the Teatro real, Madrid
Director / Choreographer: David McVicar/Andrew George
Act I Violetta Valery, a courtesan, throws a lavish party at her salon to celebrate her recovery from an illness. A guest of hers, Alfredo Germont, falls in love with Violetta at first sight. On guests' request, Alfredo gives a toast — a drinking song. From the next room, the orchestra begins to play and the guests move there to dance waltz. Violetta feels dizzy and Alfredo stays with her. He convinces her to change her lifestyle and declares his love for her. At first, Violetta rejects him with jokes, but at the end, when Alfredo is about to leave, she gives him a flower and promises a date. As the guests leave, Violetta recollects Alfredo's declarations: she has fallen in love for the first time in her life. Alfredo and Violetta live together in a country house outside Paris. They are happy in the peaceful countryside. Annina, the maid, interrupts Alfredo's dreaming announcing that Violetta sells everything she owns to support their country life. Alfredo is shocked to learn this and leaves for Paris immediately to settle matters himself. Violetta is looking through the letters: she has received an invitation from her friend, Flora, inviting her to a ball in Paris. Violetta indifferently lays it aside. Alfredo's father, Giorgio Germont, arrives. He accuses Violetta of destroying his son's life and reputation. Violetta is desperate: her love to Alfredo is her only happiness. Her life is very short; she is death-sick. She finally agrees to leave Alfredo. Violetta writes a farewell letter to Alfredo. Alfredo returns to find weeping Violetta, and after her leaving he finds the letter. Giorgio asks his son to come back to his family in Provence, but Alfredo would not listen: he has noticed Flora's invitation to the ball. Now he is sure that Violetta has left him forever. Jealous Alfredo rushes to Paris.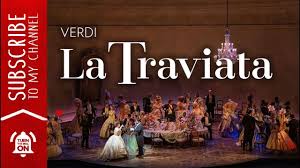 Act II A party at Flora's house. Alfredo is playing cards among other guests. Violetta arrives with Baron Douphol. Flora is happy to see her, but Violetta feels terrible at the ball: she is concerned about Alfredo. He picks a quarrel with Baron. Violetta is worried; she tries to prevent a duel. But Alfredo humiliates Violetta in front of the guests and then throws his money at her for her "services" while they lived together. Violetta, whose tuberculosis has worsened, is fading. She has been left by all the friends. Dr. Grenville is trying to encourage her, but Violetta knows she is going to die. She asks the maid to distribute the money to the poor and stays alone to read Giorgio Germont's letter: he announces the soon arrival of Alfredo. Now Alfredo knows everything: Giorgio has told him about Violetta's sacrifice. Annina rushes in the room to tell Violetta of the arrival of Alfredo. The lovers are reunited. Alfredo suggests that they leave Paris and start a new life together. But it is too late; Violetta knows her time is up, though she doesn't want to die at the moment. The old Germont understands that his consent to their marriage is belated to save Violetta. Violetta dashes to Alfredo and dies in his arms.
SUBSCRIBEDon't forget subscribe!
Subscribe to Grand Ballet: https://www.youtube.com/channel/UCAth…Subscribe to Grand Opera: https://www.youtube.com/channel/UCRnz… Subscribe to Grand Theatre:https://www.youtube.com/channel/UCBTn… Baby Shop – https://www.pinterest.com/babyshoping – is an online baby store where you find: Baby Clothes and Outfits, Toddler Toys, Baby toys, Baby Care products and other baby stuff#LaTraviata#Traviata#GiuseppeVerdi#Verdi#GrandOpera#Orchestra#Chorus#Choreographer#Опера#Opera#Верди#Травиата#ClassicalMusic#Aria#BestOperaArias#LaForzaDelDestino#AddioDelPassato#ELucevanLeStelle#IlTrovatore#KlassiekeMuziek#Concentratie#Concertgebouw#Muziek#Concert#Live#OrchestraRehearsal#GiuseppeVerdi#Верди
Published by Nadia Kovarskaya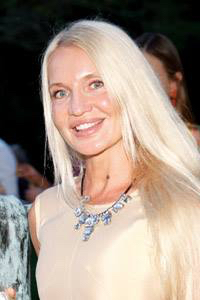 Nadia Kovarskaya,Founder www.MeetMeAtTheOpera.com
CONTACT US FOR ADVERTISING AND SPONSORSHIP:
phone: (646) 2488782-    
email   info@meetmeattheopera.com
Nadia Kovarskaya
Society Events & Life Style Society Club www.MeetMeAtTheOpera.com
Society Events Calendar, Fine Arts: Opera,Theatre,Art Fairs. Dating Extraordinary Company
‎Opera Houses · ‎Events · ‎Our Blog · ‎JOIN
About Nadia Kovarskaya:
Nadia Kovarskaya Is a top authority/influencer in Performing Arts and philanthropy:
https://agilience.com/en/MMATOpera
https://agilience.com/en/NadiaKovarskaya
La Traviata Opera | Grand Opera | Teatro Real, Madrid
Time

December 25 (Friday) 1:00 am - June 17 (Friday) 1:00 am